Coffee with Casper – Day 1 after adoption.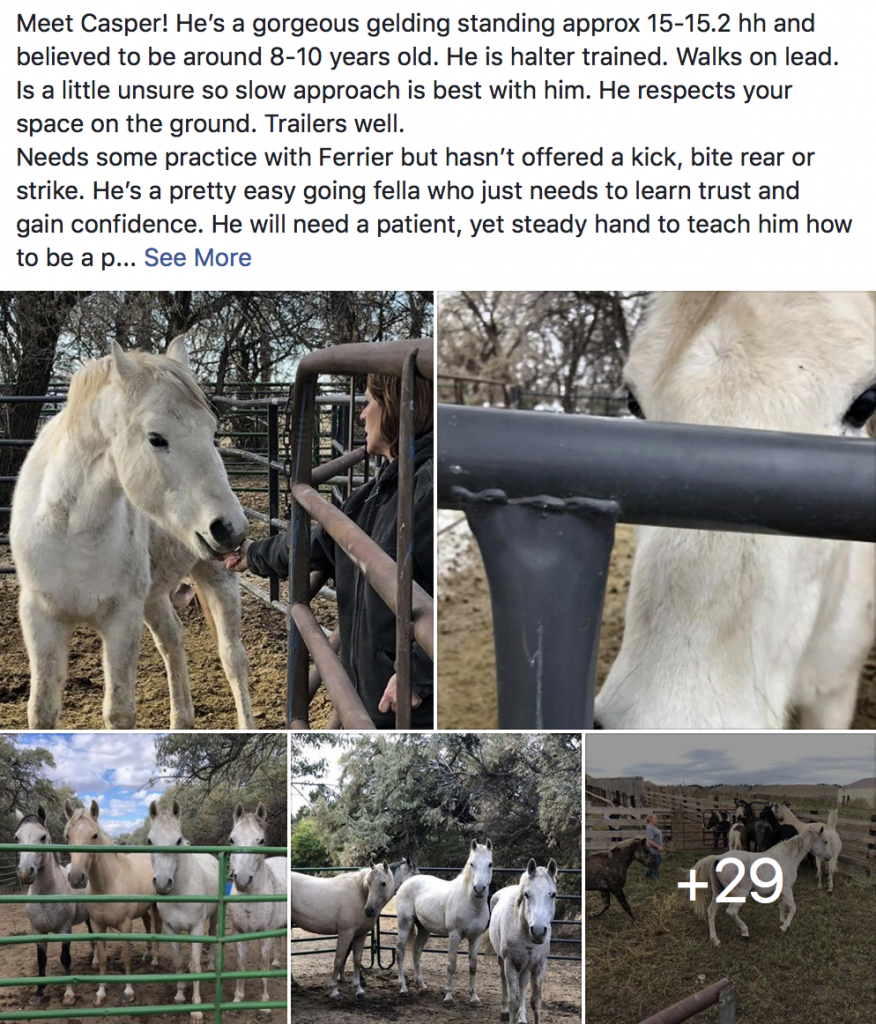 Beginning of connection 12-7-19
I am now owned by 5 amazing horses. I love and care for them, day after day, year after year. Last week I fell in love with #5 – Casper – by the look in his eye.
Horses abandoned to live on their own, on land… Then they needed to be removed from that land – a private case, not BLM removing horses from Public lands. A rescue organization stepped up – took them all to their facility. The horses were brought back to health and given amazing care. Thousands of hours of care, love and patience. These rescue organization women and their team are astounding humans – offering their heart and soul to horses in need. The last of this group – Casper had been at the rescue a year and a half – all the others adopted out. While caregivers fiercely bond to horses, life is taken up by many horses and a mission. The most difficult part of being a rescuer is knowing they are the middle of the horses life plan, with the awesome responsibility to keep those special ones long enough to find the perfect placement. Casper needed his forever person, and his forever mates, and things came together perfectly for us all.
When I looked in Casper's eye, at his facial expression, mannerisms, I saw a sensitive soul – his communication is clear, every action speaks volumes. Many people who adopt horses have a job for them to do, an idea of how they should behave. Some/ most horses want to have a say in how their minds and bodies are used. Horses have every right to be treated as a partner and with decency. Humans are fully capable of listening to horses – and working in ways that enhance, not kill their spirit.
I know I have the patience, training, education and empathic nature Casper needs to connect to and gain trust. Also – most importantly – I have a lack of a goal for his 'usefulness' in what he will do for me. My goal is to see him blossom, and let us know how/ if he wants to fit in, share his gifts, interact, share his curiosity… I so strongly felt this adoption was the right thing to do, without considering family naysayers and friends who would say "How many do you 'have' now?". We don't "have" each other – we are here, and we seek how our lives are better together, than not.
Understanding that my life goal is saving every wild horse on the planet… this is a whole 'other' story… Casper created a spark in my mind… What I can do for each domesticated horse is really simple. I offer a perspective that gives horse owners, caregivers, horse handlers and the public who simply observe horses – simple ideas, communication hints for better understanding each other. I am highly empathic, I've done bodywork with horses since 2003, having studied constantly – almost every modality, I have lots of tips to share for others from brain science to connection, along with courses showing light touch and horses responses you can do with your horse.
I create online courses teach to evaluation areas of discomfort, and how to release tension. As far as the body work I do with horses – it is a high level of care – find primary cause of body's issues and fix them- realignment. I've just completed Renee Tuckers program – Tucker BioKinetic Technique – Six of us have completed the last course – TBT Multi – Layered Alignment Course.
Casper has inspired me, I look forward to him connecting and meeting the other horses. His nature is sweet and pure. I now plan on creating online courses to teach horses' communication and behavior. Casper's communication is so clear – he will be the best teacher, along with my other horses interactions too.