Online Equine Partnered Bodywork Course
Udemy accepted my new Online Equine Partnered Bodywork Course on May 28 2019. I am grateful to the people who signed up so far, entrusting this time spent will be of value. 72 people in 17 days! 15 countries and 6 languages. Is this fabulous or what? Horses and humans will benefit!
https://www.udemy.com/equine-partnered-bodywork-introduction/
This intro course content is what I've been teaching people for years. It appears so very simple, yet there is so much theory, communication and strategy behind all the what if's… Horses tell me this work is of value, and the fact that I connect with every single horse proves this – no matter how much discomfort they are in, how shut down they are – or how athletic and exuberant they are. This light touch work fills holes, breaks down barriers and is a language all on it's own, no words or thoughts needed.
My toolbox, filled with certifications of amazing work, is what I use in my private practice, everyone should have a full toolbox – many of you already do. If nothing else- this piece – light touch work – when you practice 2-3 times a week can break down barriers, can change your life and your horse will appreciate the changes.
This course is all about the first step of (or revisiting) connection. Setting the stage for a successful relationship – trust building, staying under the brace, whether physical, mental, emotional, spiritual… Recognizing there is a difference in the energies and adjusting our presence/ intent depending on what we are sensing is key.
We must recognize our own issues that block us. In a graduate program I am in, there is a really helpful technique that I have yet to master, but am making progress. There is a feeling of overwhelm and panic that blocks when I attempt to 'allow' a question to be answered. Blocks are unconditioned responses. Life events show up, we honor their lessons and let them go, the panic, the memory, the senses diminish. Simple. Enlightening. Same with this work, for us as well as the horse.
Watching this light touch work will spark your curiosity, but by applying it with different horses brings up and out, energy that is better off let go of – for them and us. In the advanced course we work through many situations, but first – experience the work, feel the bliss and work through barriers. I guarantee you will get a glimpse of the horse as the superior spiritual beings that they innately are, you in turn, may make discoveries…
Depending on what we are seeking – this work can be light hearted and fun, also deeply meaningful and soul touching…
When we practice this work on our own horse or many horses, the benefits show up beyond measure. For me personally, horses sense what I have to offer – they will move close to me and offer the body part they want me to work on… I do, and they are grateful. Whether horses know me or not, their senses are way beyond what humans can develop in a lifetime. Try this for yourself and see what horses offer you! Seriously, there's nothing better than this.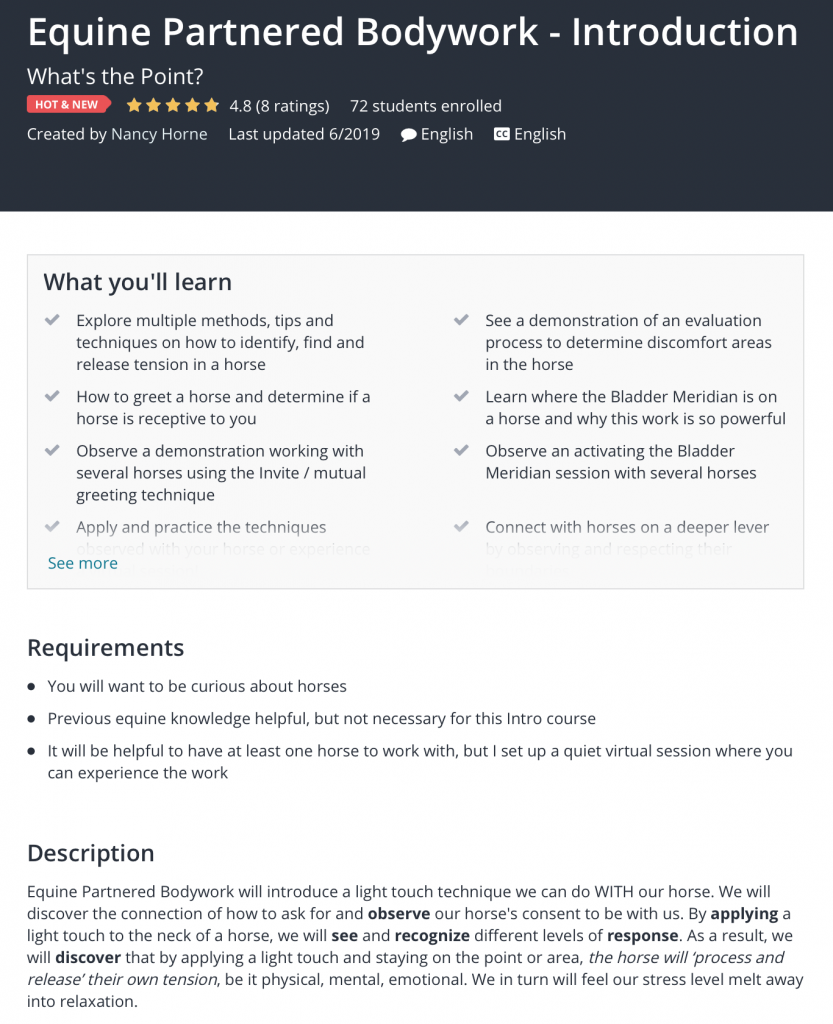 Check it out!
Nancy
https://www.udemy.com/equine-partnered-bodywork-introduction/